Written by The Licorice Gallery
Monday, 28 July 2008
LG) What was your most satisfying win during your career?
RM) Final Stage of the Sun Tour 1993.
How did you become involved in cycling?
Frank my father rode along with a number of my uncles. Tony & Harry McCaig and Ian Turner. I was always around bikes so really it was inevitable although I did not start until I was 15.
Did you have a favourite race?
Melbourne to Warnambool was my favourite race. It was just such an achievement to finish. The atmosphere was just great and of course a prestigious race to win. Something I was unable to do. Still love watching it. The finish up Raglan Parade is the best finish of any race.
The hardest hill climb you encountered during a race?
Mt Hotham. Terrible at the bottom worse at the top.
Who was the biggest influence on your career?
Biggest influence on my career is without a doubt my father Frank. He followed me around everywhere and has great knowledge about the sport which was invaluable to me. We argued quite a lot but now that I look back rarely was he wrong it was just that I didnít like hearing it.
Joe Ciavola also had a big influence on me. Joe was just so smart about track racing and had tremendous knowledge about how to ride certain tracks.
Gary Sutton was also great for me when we rode together in some races. Very smart and very motivating.
What would be the biggest change you have seen to the sport since you retired?
Cyclists whether they are any good or not just head overseas to race. There are plenty of opportunities in America and Europe but a distinct lack of racing here.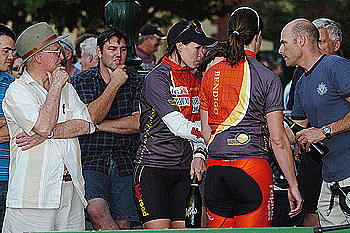 Do you have any other sporting interests?
Cycling is my main interest. I love to watch the footy and follow Nth Melbourne. I would love to get to more games than I do.
My oldest boy Wil has just started to play soccer so I have a big interest there.
Can you remember the first bike that you raced on?
First bike I raced on was hand made by Frank. He used to build frames. Thatís about all I remember about it. I thought it was flash thatís the main thing.
Who is the best rider you have seen?
Canít leave it at one. Blokes who raced as when I first started still stick in my mind. Urs Frueler and Danny Clark were just great. Grew up watching them at the Tassie Carnivals. Gary Sutton, Michael Grenda, Glenn Clarke & Dean Woods I thought were awesome. They could all race any event and win anywhere. Great all rounders.
Used to love watching Phil Anderson on those early videos from Europe.
Cav now. Mark Cavendish is my favourite at the moment.
If you could change one thing in cycling what would it be?
I would push for more racing in Australia and protect great events. There is a real lack of racing now whether it is road or track. When I first started we raced opens nearly every weekend. Not any more.
There seems to be plenty of money for junior development but no races for senior riders. Juniors get developed and then turn senior and canít race anywhere. I have seen lots of races fall off the calendar in the last 20 years. It would be great to establish full seasons of quality races here in Australia.
Do you have a favourite drink?
Little Creatures Beer
Do you have a favourite food?
Cheese & Vegemite sandwiches
Are you still involved in the sport?
Still involved in the sport. I am the Executive Officer of the Bendigo International Madison. Best track race in Australia I think. Keeps me very busy but it is worth it for the sport and Bendigo.
How is Australian cycling placed on the world scale at present?
Australian Cycling is just going great guns at the moment. Plenty of awesome riders. Australians are the flavour of the month and deservedly so. If we had more quality racing here so riders could develop in their own country just think how many men and women would be the stars on the world scene.
Can you name three people that you would like to go on a training ride with (not necessarily cyclists but perhaps three idols in other areas of life)?
Boof (Brent McCaig-Brother), Ash Sheard & Matty Allan just for old time sake.
Where were you born?
Bendigo
Where do you currently live?
Bendigo
Rik McCaig thanks for spending some time on the Bell Lap in the Licorice Gallery.
28/07/2008.