Written by The Licorice Gallery
Monday, 14 May 2007
Sid Taberlay welcome to off the saddle

LG) When did you first commence racing? ST) First race was about 1995 i think so about eight years.

Favourite race? I generally like stage races they are a little bit more interesting, than just doing a two hour race where something goes wrong or you are not feeling too good at the start. Your not having such a good day towards the end and your race is pretty much over, where as in a stage race if your not having a good day the next day you can make it up.

Hardest hill climb? I reckon that would be back in the 2000 Tour of Tasmania up Mt.Wellington, when the German and Russian pursuit teams were doing the race. On that day i was struggling to get to double figures ( speed up the mountain ) when you go out the arse and things aren't going too well you struggle.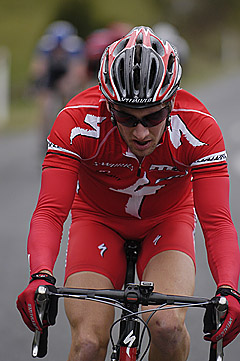 How many kilometres a week would you train on average? Probably average about 600 km on the road.

Do you have a favourite training ride or region? I live down the Kingborough area which is south of Hobart, sort of at the base of Mt.Wellington up around Fern trees which is quite enjoyable.

Favourite food? Ice-cream.

Favourite drink? I dont really have a favourite drink.

Favourite band or music? I just put the radio on if i need any of that.

Who has been the biggest influence on your career? I just enjoy it so while the enjoyment is there you tend to pursue it.

Other sporting interests? I used to run before i started riding, but i dont really have any other sports.

Can you remember the first bike you owned or rode? I can remember an old twelve inch bike i had it was pretty knocked about and i remember trying to start popping wheelies on it and sort of flipping it a few times and landing on my backside.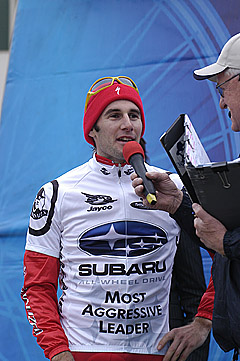 Your worst crash or injury? About 1997 - 1998 a car took me out i was just riding along and she decided she would pull out in front of me and i was moving a bit quicker than she thought. I cant remember any of the crash i just remember waking up in hospital in Hobart.

Three people you would like to go on a mountain bike ride with? Anyone that's sociable and easy to get along with - and they're not too slow ( wry smile from Sid ).

Favourite TV show? I dont have a lot of time for tv, if you turn it on you just watch whatever is on and flick through the channels. I dont really have a favourite.

Advice for any junior or competitive cyclist? Just keep enjoying it, there is no point trying to go too hard. As soon as you start trying to go too hard and you lose the enjoyment you tend not to go anywhere. If you enjoy it you can gradually build up. So keep enjoying it.


Born; Hobart, 22 / 01 / 1980.

Lives; Hobart.
Sid Taberlay thanks for spending some time off the saddle on the Licorice Gallery