Written by The Licorice Gallery
Sunday, 06 May 2007
William Walker welcome to off the saddle
LG) How did you get started in cycling?
WW) At aged 13 i was introduced to the Brunswick cycling clinic by a friend at school.


What's been the biggest win for you so far?
For me it is the Melbourne to Warnambool for the prestige but the Herald Sun Tour meant the most to me because it was the last stage of a long tour that finished near my home town of when I was young.

Do you have a favourite race on your calendar?
Thuringen Rhundfhart this year because I will aim to win and I also did it last year.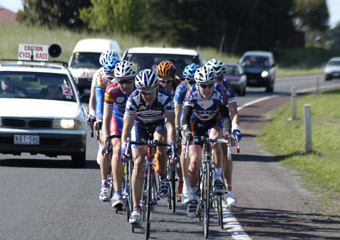 Hardest hill climb (competing or training)?
Mt Baw Baw in the Sun Tour - that was just too hard!!!

How many km's a week would you train on average?
650 kms a week average during the year, sometimes more and sometimes less depending on racing or what not.

Do you have a favourite training ride / region?
Bright by a mile in country Victoria; staying with my grandparents.

Three people you would like to have on a training ride with you?
Rocky Balboa, Lance Armstrong and a nice looking girl.

Favourite food?
Italian pizza or chocolate, all food is good.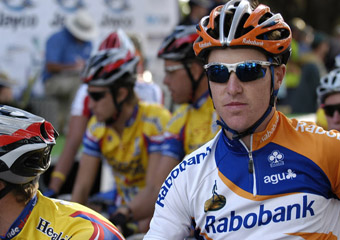 Favourite drink?
Rode wijn - red wine.

Biggest influence on your career so far?
Allan Grindle.
First bike owned or raced on?
A Repco from my cousin.

Do you have a favourite tv show?
Seinfeld.
Do you have a favourite band or style of music?
Too many to think of.

Worst injury or crash to date?
None serious to date.
Other sporting interests?
Now it is snooker, but only watching on TV.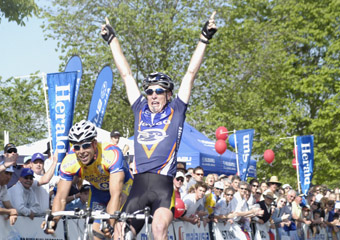 Long term ambition in cycling?
To be in the Pro tour and reach my potential.

Advice to any junior or competitive cyclist wishing to break into the sport?
Train hard and ask all the good riders for advice and lots of questions
and develop your knowledge. Winning will eventually come!!

When were you born? 31.10.1985.
Where were you born? Perth, Western Australia.
Where you now live? In Belgium (Rotem) and Melbourne (Ivanhoe).
Which team do you currently ride for? Rabobank Continental team in 2005.

William Walker thanks for spending some time Off the Saddle on the Licorice Gallery