Written by The Licorice Gallery
Friday, 23 March 2007
Danny Clark welcome to The Bell Lap


LG) What was your favourite race?
DC) The Munich six day
What was your most satisfying win?
They're all satisfying, whether they're small or big i just enjoy racing.

The hardest hill climb you encountered?
The Dolomite mountains i raced last year in Italy. I rode the Grand Fondo, one of the Grand Fondo's was the Dolomite Classic and we rode two big first category climbs in the one day so that was probably the hardest race i have ever done.

Do you have a favourite food?
Pasta

A favourite drink?
Red wine

Who was the biggest influence on your career?
Thats a difficult one because i have really driven myself, Russell Mockridge if i really want to go back. Just reading his book and the person he was and being a road and track rider, being able to do everything thats what i really built my whole career on. I wanted to be able to do anything and any distance and he was like that.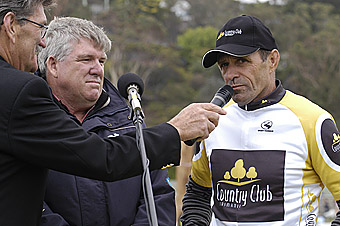 Do you have a favourite band or style of music?
I like the Eagles, i like the older kind of music.

Do you have a favourite place that you visited through cycling?
I love America, i love racing in America i think thats a great place. But i would have to say Italy is the best of all.

Is there a favourite training ride or region?
I go down to Murwillumbah and all around avocado land thats quite a nice ride.

Can you name three people that you would most like to go on a training ride with?
Elvis Presley, Muhammad Ali, ( his wife remarks Pamela Anderson, however thats not to go on a training ride with!) and Bernard Hinault.

Do you have any other sporting interests?
Football; love golf, i like most sports; surf a bit, i like the beach.

Where is the fastest velodrome that you have raced on?
I would have to say Moscow.

Do you have a favourite tv show?
Everybody loves Raymond.

Your worst injury or crash?
Ooh they are all bad, i think the worst one i had was when i broke my hip in the Frankfurt six day. I've still got a plate in my hip you know and that was in 1983. Its affected my career a great deal that crash because its taken a lot of power out of my left leg even though i have done some great things since then, when i sprint or climb big mountains the right leg is doing everything. So i have lost a lot of power and its caused me a lot of trouble you know over the years so thats probably the worst one i have had.

Can you remember the first bike that you owned or rode?
Max Leslie from Georgetown ( about 35 minutes drive north of Launceston ) he used to train his son Jeff and Stephen Andrews, he used to loan kids bikes and he loaned me one for about three months when i first started off and then my father got my eldest brother's semi racer painted it up and i used that.

What bike are you riding now?
Im riding a Pinarello.

What advice would you give to any junior or competitive cyclist wishing to break into the sport?
To enjoy there cycling while they are young, stay on small gears, get an education and keep away from drugs.

What do you remember about the 1977 Burnie Wheelrace?
Well i remember that day i rode eleven races and won nine, absolutely flying the whole day and night. In the wheelrace i was so far behind it wasn't funny, at two and a quarter laps to go i was still probably at that stage very close to a third of the track behind. With one lap to go there was three in front of me and i remember thinking i can still win this. Going down the back straight they were still miles in front but i knew in myself i could catch them but i didn't think it would be that close.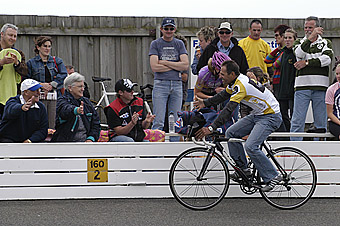 Who is the best rider that you have seen?
Patrick Sercu.

Born ; Launceston ( moved to Georgetown when three years old )

Now lives; Gold Coast, Queensland, Australia.


Danny Clark thanks for spending some time in the Bell Lap (Pedals from the past)