Written by The Licorice Gallery
Wednesday, 21 March 2007
Oenone Wood welcome to Off the Saddle
LG) How did you get involved in cycling ?
OW) Originally i was in triathlons for four years and then i was at the Australian Defence Force Academy and Mark Stevens was my PTI there (Brother to Neil and Brian) and it was him that actually convinced me to change over to cycling.
Favourite race ?
Probably Amstel Gold last year just because of the atmosphere, all the trophies at the start and the huge crowds it was just a great race to be at.
How long have you been riding overseas for ?
I was over for a full season last year (2003) and then in 2002 i was over for about two and a half months on a development scholarship with the AIS (Australian Institute of Sport).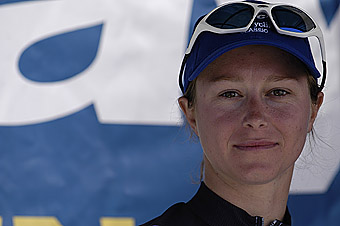 Most satisfying win in your career so far ?
The National Titles. (Oenone responded without hesitation, she won the time trial and road race at the 2004 Championships at Buninyong near Ballarat in Victoria)
The hardest hill climb you can remember ?
The finish of Flech Wallone was probably the hill that just hurt the most. I was in so much pain at the end of that but i mean everybody was, if you look at the photos of the finish there are no happy smiles everyone was just at their absolute limit.
Favourite food ?
Watermelon cold from the fridge.
Favourite drink ?
Orange juice.
How many kilometres would you average a week at training ?
It usually would be between five to seven hundred i suppose.
Do you have a favourite training ride or region ?
I really like over where the team is based in Italy, at the back of Reggio Amelia there are some really nice climbs up there. That's probably the best training ride i have been on in the hills up there.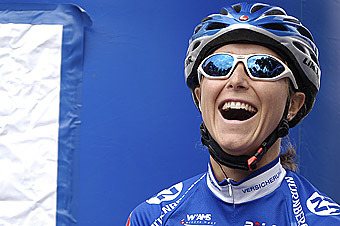 Three people you would like to go on a training ride with ?
Cippolini (Mario Cippolini, former Italian sprinter) Stuart O'Grady (Aussie road star) and Petra Rossner (former German champion road rider). All on the same training ride though mind you.
The first race you competed in ?
It was with the Canberra Cycling Club and i probably would have been racing D' Grade or something like that. I got pipped at the post by someone who i thought i should have beaten cause coming from triathlon i just sat on the front all the day and thought i was going to win.
First bike that you owned or raced on ?
My first road bike that i ever raced on was actually when i was doing a triathlon and it was a bright fluro bike. Probably a Repco or something, it was maybe a 58cm frame and the seat was sitting right on the top tube.
Most admired sportsman ?
I used to really like Keiren Perkins.
Other sporting interests ?
Canyoning like adventure sports, that was probably from when i was with the Defence Force Academy. You go down into the canyon and you absail down the waterfalls and then just walk down the creek and then you have to sometimes rock climb out but sometimes it's just a big hike out.
How do you compare cycling in Australia to Europe ?
I guess it's different because of the way Europe's set up. You have got a village every five kilometres so really when they choose their race course they can have them weaving in and out of villages. They are a lot more open to having the road closed for a little while. Where as in Australia it's sometimes a major drama to have to close roads for races. So you tend to find people will be walking out their front doors and standing on their front doorstep to watch the race go by. So you get massive crowds somedays and it's really good to have that support and have people cheering when your going by.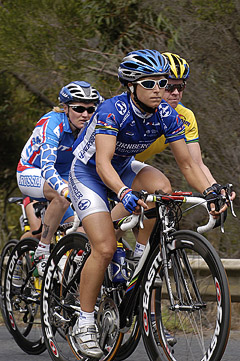 Advice to any junior or competitive cyclist wishing to break into cycling ?
Keep it all in perspective at the end of the day it's still a sport and the objective really should be to enjoy yourself and have fun.
Born: Newcastle
Date: 24 / 09 / 1980
Now Lives: Canberra.
Team/s: T-Mobile
Oenone Wood thanks for spending some time off the saddle on the Licorice Gallery