Written by The Licorice Gallery
Wednesday, 14 March 2007
Ron Grenda welcome to the Bell Lap 'pedals from the past'
LG) When did you first commence racing?
I started back in 1954 , track racing at Scottsdale. We had a track around the football oval. We had a small club of about twelve riders and we use to train and race there, we would travel into Launceston to race at York Park.

Can you remember the first bike that you owned or raced on?
It was called a flying Alstr, i have never heard of one or seen one again.

Did you have a favourite race in your career?
Six day racing.

What was your biggest win?
The Melbourne six day race in 1961 with Sid Patterson, we won the Falcon Six there were two new Falcon cars as first prize.

Who was the biggest influence on your career?
I would have to say Gordon Dilworth , he was a chap that trained me out here. He was a sporting fanatic and well known in the area , he trained me from go to woe.

Did you have a favourite training ride or region?
When we started out here the roads were pretty poor. There used to be a ride from Scottsdale to Bridport but it was on a gravel road, we would ride down to Bridport and all the cars would pass us on the way , it was a pretty rough road and we would be covered in dust. We would strip off and have a swim , ride home in wet knicks and be covered in dust when we got home. That was about a forty km ride.

Who was the best rider you raced against?
I would say that Sid Patterson was a fairly canny rider , Sid was always hard to beat when he was going well. Probably the rider that i admired the most but i never raced against him was Oscar Platna. I just liked the style of him and the way he raced, i did race a six day race with him towards the end of his career and he wasn't going that well , but he is the one that stands out in my mind. Another Swiss rider that impressed me was Urs Freuhler, he raced against Michael ( son ) but he won the 50km points a couple of times , he won six day races , he won stages in the Tour De France, Tour of Italy, and Tour of Switzerland. Urs was a good road rider as well as a good track rider.

Your memories of six-day racing?
Probably the first six day race in Melbourne, was one of the Milk sixes run by Ted Waterford and prizemoney then was ten thousand pounds. It was really big money then and i rode with a chap named Tino Oriani , he was Italian and he couldn't speak english and i couldn't speak italian so we just did a bit of sign language but we got through and i think finished fifth in the race and we were the top points winners. We used to start about nine in the morning and once you got on the bike apart from the breaks at night there always had to be a rider on the track. Even in the neutralised period you had to have a rider on the track, it would be under control but you had to keep rolling. So the race didn't stop till about twelve thirty ( at night ) when the last sprint session was on. So it was a long day, we had our break from 6-7 and i think the mileage covered then was something like 1800-2000 miles , so early six day races were pretty tough.

The infamous York Park Speedway in Launceston?
I rode probably five or six races at York Park, i rode the first with Freddie Roach we won that one. The second with Ron Murray , third with Kevin Morgan , one with Sid Patterson and Oscar Platna. I also rode at St.Leonards track after York Park with Bob Whetters. We used to hold club races at York Park on Tuesday and Thursday nights, the amateurs had control of the lease but the proís would get the people along, it was a good venue you would get two or three thousand there on club nights. That might be hard to believe now but there was no television then, this was in the late fifties early sixties. The people would turn up there on club nights and pay good money to get in, now when the sixes started it was a new era and it was great entertainment, but the track was absolutely ratto. It was cement, it was poorly banked and dangerous, you would clip your pedals but we got used to it. Visiting riders would come here and take two or three days to settle into the track. It was a track that was pretty entertaining because people would go out there for the blood and guts, on racing nights the ambulance would be going non-stop. We always felt that the amateurs were the best entertainment of the lot, because they would be scraping them up off the track and the ambulance would come in and take them away. Iím sure that the siren going up and down Invermay road taking them off to the hospital to patch them up brought the people in. So they came there to see the action which included all the falls, the track was so bad the boys were in-experienced they were amateurs coming through and that added up to a pretty good nights entertainment.

The demise of six day racing in Australia?
Amateurs and professionals are now together, most of the professionals are coming from the amateur ranks the old die hard professional promoters don't exist anymore they are retired and gone. The promotional dollar now goes into amateur sponsorship, amateur sport flourished all through the Olympics allowing athletes to get paid so as soon as that happened high profile athletes in the Olympics and Commonwealth games started to take all the promotional money. So the promoters stopped running sixers because there was no money in it for them, plus tv had come onto the scene people would go one or two nights of a six , maybe the first and last nights . There was too much other entertainment , spectators are now spoilt you have got cricket, tennis they see topline sport all the time so the mid range sports just dont get the following. The Melbourne sixers were absolutely packed, every session day and night were packed they were a big deal. I can remember the first six day race at York Park, the West Indian cricket team came out and Wes Hall i think was captain at the time and the West Indians actually came to every night session of the first six day bike race. They used to come down to the camps afterwards and this is what the interest was in the West Indian cricket team coming to watch our bike race thats how big it was. They used to go in Melbourne, they would play their cricket and then go and watch the bike race. That was in the early sixties and that was what the profile was like. When i raced there was something like fourteen professional scratchmen so there is seven teams and it didn't take long to pick up the other seven teams. The cycling today and the training through the Institute of sports concentrate on individuals riding a particular event, it might be a sprint , a time trial, a pursuit a points race . In our day to make a quid as a professional you had to be able to ride a good sprint , a pursuit , you had to be able to ride a six day race a good handicap and develop your skills. When you have fourteen scratchmen in an aces scratch race at the Christmas carnivals you had a real spectacle, and they were true scratchmen. In our day you had one or two backmen you had to swap turns and still ride the sprint at the finish, it doesn't happen now. The ability isn't there so when it comes to running a six you get a mediocre field, as soon as you get a mediocre field there is no spectacle and people don't come. So its to do with the amateurism that's come into cycling and their more interested in time than the spectacle.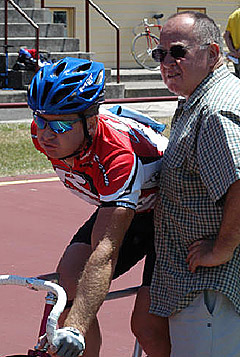 Who is the best rider in cycling today?
(Lance) Armstrong is pretty impressive, you have to take your hat off to him for his dedication. In Australia Robbie McEwen is impressive, Matty Gilmore has made the top in the six day races , and McGee ( Brad ) setting the record with the pursuit. Gee we have got some good bike riders in Australia at the moment.

Other sporting interests?
Not many, yachting, i dont do that much now, i went into yachting after the bikes and then tried my hand at golf.

Favourite food?
Bacon and eggs comes pretty close to the top of the list.

Favourite drink?
I like a glass of wine, red or white it doesn't matter.

Do you ride today?
No but i did buy a bike last year and started training for a little while but there are too many hills around this way.

Do you have any involvement in cycling today?
Only helping Michael ( son ), just family involvement.

Favourite tv show?
Mainly the English comedies, a favourite film is Dumb and Dumber.

What advice would you give to any cyclist wishing to break into the sport?
Well my advice and i have said this to Michael and Ben ( grandson ) if you are going to ride the bikes you have to be one hundred percent dedicated, because it is too hard and too time consuming to do it half cocked. Your either in it full bore or don't bother, because its too tough.

Whats the fastest track you raced on?
Well there weren't many fast tracks around when i raced but i suppose the old board track in Melbourne was considerably fast. You get a night race at Devonport or Burnie even though there is a little up hill and down hill, Devonport track at night was a very fast track.

Favourite holiday destination?
Queensland.

Cycling today?
I think that Australia's results on the track and road have been brought about by Charlie Walsh and his efforts. He has not been everyone's favourite but he is a disciplinarian, i think that he has done a terrific job. The state of the sport is not too bad i dont think that track cycling will ever be what it used to be, mainly because of television. The sponsors dollars are not here anymore and thats killed track racing, if it hadn't of been for the Olympics and Commonwealth games, the Institute of sport and the high profile that our road and track riders are getting now the sport could have gone straight down the shooter.

Born; Melbourne, 13 / 11 / 1938.
Lives; Scottsdale ( North East Tasmania ).
Occupation; Now works for Roberts Real Estate in Scottsdale.

Ron Grenda thanks for spending some time on the Bell Lap on the Licorice Gallery.