Written by The Licorice Gallery
Tuesday, 13 March 2007
LG) Favourite race ?
HC) Would have to be the Melbourne to Warrnambool and the Launceston classic in December
Most satisfying win ?
The Melbourne to Warrnambool being one of the longest races in the world and my first win and my father winning that before so i think that one would definitely be my highlight
Hardest hill climb ?
Racing i think it's Mt.Baw Baw in last year's Herald Sun Tour, and maybe just training this year in the French Alps on climbs used in the Tour de France
How many kilometres would you train on average ?
When training maybe up to one thousand kms' a week. When in Europe and racing a lot it could vary between 500 and 700 kilometres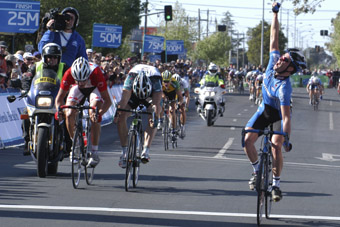 Three people you would most like to go on a training ride with ?
My two brothers and my old man for a casual stroll down to the coffee shop i think
Favourite food ?
Vegemite
Favourite drink ?
Coke
Favourite training ride or region ?
My training ride that i do from Melbourne to Sorrento behind the motorbike with Dave Sanders. We have done a lot on Tuesdays and Thursdays through my cycling young days , and go over Arthur's Seat as well a four km climb. On the way home we always ramp it up a bit and have a bit of a battle out there me and all the Victorian boys , so its got to be a favourite
The first bike that you owned or raced on ?
I think going past all the hand me downs and broken parts and bits and pieces it would have been a Look bike, and i have been looked after by them a lot until i started racing professionally and changing bikes. Now i am back on a KX light Look bike
Favourite place visited through cycling ?
Santa Monica California where i lived for a couple of years and was on the beach and living like i was on Baywatch that was nice
Worst crash or injury ?
No bad injuries yet thank God but i think one of my most frightening crashes was half a lap to go on the indoor track at Launceston (Silverdome) when i went down in a B grade scratch race
Biggest influence on your career ?
My father (Hilton senior)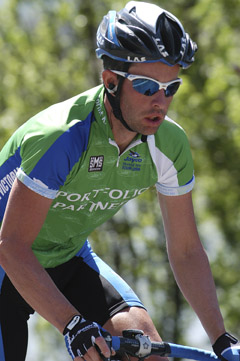 Favourite band or music ?
Eminem
Best part of being a Professional cyclist ?
Maybe the traveling and the team bonding
Other sporting interests ?
Australian Rules football
Most admired sportsman ?
Andre Agassi
Advice to any junior or competitive cyclist wishing to break into the sport ?
Yeah to think of the sport beyond just the cycling
Born : Melbourne
Date: 11 / 07 / 1979
Now lives : Melbourne
Team: Navigators Insurance (USA)
Hilton Clarke thanks for spending some time off the saddle in the Licorice Gallery
Last Updated ( Tuesday, 13 March 2007 )