| | | | |
| --- | --- | --- | --- |
| Ovens and Murray too polished for the Hampden League - 2012 VCFL Country Football Championships. | | | |
Written by The Licorice Gallery
Wednesday, 30 May 2012
The Victorian Country Football Championships made their way to Carlton's Visy Park last Sunday where the fifth ranked Ovens and Murray League took on the sixth ranked Hampden League. With the unfortunate aspect of both teams having to travel to meet each other around half-way fans of both sides could be excused for not turning up. Consequently only a handful of spectators made their way through the gates.
It didn't detract from the match however with the more fancied O & M putting on a polished display to down the Hampden League by 48 points. The O & M used the ball more impressively through the midfield and had strong marking targets up forward which their opponents struggled to control for the majority of the game.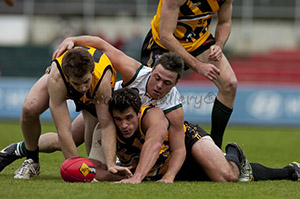 O&M captain, North Albury's Daniel Leslie, directed charges around him as he bagged four goals and Wodonga's Brett Doswell won the medal for best on ground. The win has elevated O&M to fourth in the VCFL's Country Championships rankings.

The Hampden League kicked the first two goals of the match before the O&M found their feet, piling on the next seven goals to lead by 32 points at the first change. Hampden's Jason Rowan (Warrnambool) and Josh Walters (Warrnambool) found plenty of the ball and did their best to keep their team in the game. However, former Sydney Swan, Ed Barlow (Wangaratta), Jamie Allan (Wangaratta) and Sam Milne (Albury) were getting their hands on the ball too often and the run thorugh the midfield was carving up the Hampden League.

Hampden kicked the last four goals of the second term to reduce the margin to twenty points at the main break. In fact their final three quarters weren't bad, kicking 8.6 to O&M 11.4. The 'Bottlegreens' never stopped trying and for a fifteen minute period in the first quarter where the Ovens and Murray ran amok, the game would have been a lot closer.

The Ovens and Murray did widen the gap with shots on goal and inside fifties however. The final score being the Ovens and Murray 18.6.114 to the Hampden League 10.6.66. Yarrawonga key forward Brad O'Connor snared four goals for the O&M to match his skipper's efforts and midfielder Joel Mackie (Albury) was also a standout along with Barlow and Doswell.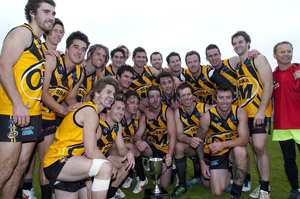 For the Hampden League, Tim Hunt (Warrnambool), half-back Jarrod Thompson (South Warrnambool) and wingman Sam Chapman (Camperdown) were among their side's best. The Ovens and Murray League will now meet the Mornington Peninsula League whilst Hampden will clash with the Sunraysia League in next year's VCFL Country Championships competition.
Last Updated ( Wednesday, 30 May 2012 )