| | | | |
| --- | --- | --- | --- |
| Earle gets Genesys on the board in Borneo. | | | |
Written by The Licorice Gallery
Saturday, 28 April 2012
LAHAD DATU - Australia's Genesys Wealth Advisers' Nathan Earle bagged the victory in Stage Two of the Tour of Borneo from Tawau to Lahad Datu today, beating the rest of a breakaway group of 19 riders in the final sprint. It was Genesys Wealth Advisers' third UCI Asia Tour victory of the season, having registered two stage wins in the Tour of Taiwan.
Earle, 24, beat a surprising Shahrul Afiza Fauzan of the Malaysian Armed Forces to the finish line at the end of the 146.6km stage, while overall leader Michael Torckler of New Zealand's Pure Black Racing Team kept his lead by finishing third in the stage.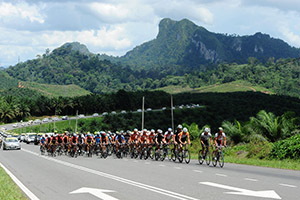 Uzbekistan Suren Team's Azamat Turaev became the Tour of Borneo's first king of the mountains classification leader after he swept both categorised climbs of the day and was part of the group of 19 riders that went away before the second king of the mountains point in Danum Valley, about 20km from the finish.
In the final sprint it was Earle who surged ahead with 50 metres to go and was a clear winner ahead of Shahrul Afiza, who did well to register the first podium finish of his career and also wrested the Asian riders classification and Malaysian riders classification leads from Terengganu Cycling Team's Harrif Salleh.
"I just kept going and when an attack was formed before the second climb I just had to follow it. The plan was to get the yellow jersey, but leader was really strong today, it was going to be difficult," said Earle.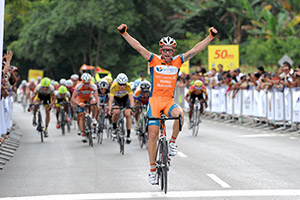 "But it's great to get the win and we'll see how it goes in the coming stages." Shahrul Afiza said he was happy with the first podium finish of his career after coming close in the Jelajah Malaysia last year where he finished fourth in a stage.

"I'm in better form all around and since I'm holding the blue jersey, I'm going to try and keep it to the finish although there are some big names among the Asian riders in this race," said Shahrul.

Torckler, 24, remains focused on the Pure Black Racing Team's plans to keep the yellow jersey till the end.
"The team worked really hard to keep everything under control today. The time gaps aren't really high so it's going to be a lot of hard work in the coming stages, but we're going to give it a go," said Torckler.
Stage Three from Lahad Datu to Tawau tomorrow covers 181.8 kilometres route from Lahad Datu to Sandakan.
Words and Photos: 2012 Tour of Borneo.